Ganre:

Race

Version:

1.2.22

Developer:

Vector Unit

Requirements:

Android 4.1

+

Publish Date:

23.07.2019

Rated for:

6+ years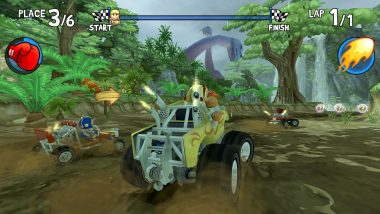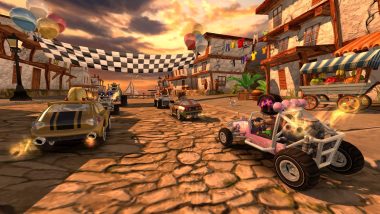 The description of Beach Buggy Racing
Beach Buggy Racing is a dizzying race, and over rough terrain, which adds more drive and fun. Framed game in a specific cartoon style. But let the gamer is not misleading, since the intensity of the struggle here is serious. This confirms the presence of millions of participants, including many experienced "racers". At the disposal of gamers a large variety of tracks. The advantage of the cartoon style is that it made it possible to make the popular Buggy Racing as diverse as possible. As a result, the races are full of surprises, as they are held in the most exotic places that are tropics, volcanoes, deserts. And on the way participants can meet anything, including dinosaurs.  In addition, each of the tracks is full of all sorts of surprises, so there are hidden paths to the finish. They are short, so they will give a significant advantage to the participants who are oriented in the situation. There are many other ways to simplify your path to leadership. A considerable number of routes will please you, there are 15 of them.
Non-standard concerns and the fleet, as the name indicates that the race is held on the buggy, but in reality everything is an order of magnitude more interesting and diverse. Off-road vehicles, ordinary sports cars, which place only on an asphalt road, as well as other vehicles, including moon rovers, participate in races. But it should be remembered that despite the cheerful design races in Buggy Racing will be able to win only a well-modernized car. And the possibilities for this are quite wide among gamers.
Upgrade and purchase of new racing cars racing lover will have to earn successfully speaking in the races. In addition, the developers have provided 25 additional bonuses that will allow more actively to perform the modernization and replenishment of the personal fleet. All riders are given the opportunity to collect teams of their opponents. And there were no surprises here either. So many of them except superb special skills are endowed with supernatural capabilities.
For example, they can teleport, use spells that knock a gamer from the right path. All this makes Buggy Racing an exciting and unpredictable race. The advantages of the game are presented and good three-dimensional graphics, excellent physics. It should be noted the quality of the soundtrack. The control of the car is smooth and clear for the participant with any level of training, and without any addiction.