Ganre:

Strategy

Version:

2.14

Developer:

Tapps Games

Requirements:

Android 4.1

+

Publish Date:

02.07.2019

Rated for:

8+ years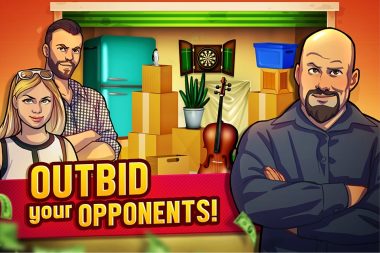 The description of Bid Wars - Storage Auctions and Pawn Shop Tycoon
It is likely that the ordinary man in the street will not be interested in warehouses filled to the top with different old things. In Bid Wars – Storage Auctions this can generate huge interest, as well as bring an incredible profit. Entrepreneurial plots are ready at any moment to become the owners of those or other rare things, since their sale at auctions can bring huge profits. But how do you know what kind of old thing can become an expensive lot. It is possible that having bought a huge variety of rare things you will not find anything of value. As a result, and do not get the long-awaited profit. Perhaps it is in this business that one must possess intuition, and study everything carefully.
Using quality data you can succeed during the passage of the first levels of the strategy Bid Wars – Storage Auctions. You should also listen to the advice of your virtual assistant, who is a true professional.  It is a virtual assistant who can determine whether to invest with an old umbrella or a rare chest of drawers, a cello or a pair of boots. Make deliberate decisions, listening to the recommendations of a professional, evaluate all possible options, offering the most reasonable cost, pay for one or the other lot. After that, you can put the lot up for auction and get an incredible profit.
After the player has mastered all the main points of Bid Wars – Storage Auctions, you can begin to perform missions. Which are even more involved in the gameplay and make it more interesting. Do not forget about competitors who are trying to regularly prevent a decisive bet and take possession of a valuable thing. It is becoming more and more difficult to get one or another lot, the rates are constantly increasing. But you need to make a decision and show persistence of character. In addition, it is not always the right assistant next door, sometimes she disappears somewhere, and at the same time at the most inappropriate moment. The result depends only on the decision of the player, his logical thinking, intuition. One has to hope only for oneself, and for those bonuses, which are extremely rare in the game.