Ganre:

Logical

Version:

5.9.0

Developer:

Awem Games Limited

Requirements:

Android 4.1

+

Publish Date:

10.07.2019

Rated for:

6+ years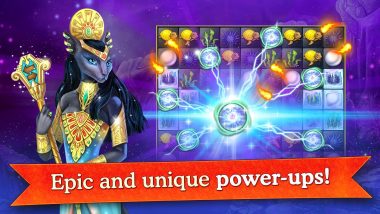 The description of Cradle of Empires
The game Cradle of Empires can be called one of the most relevant and not similar to all the other puzzles for tablets and smartphones that are controlled by Android and iOS. To some experienced players, it may seem that any puzzle three in a row today is fairly monotonous, so it can get annoying very quickly. In reality, more than half of the puzzles are now considered to be banal clones of each other, not having a unique component. Therefore, they quickly get bored, so that soon the user stops playing them. If you download Cradle of Empires, you can already quickly find that this game is similar to the rest.
However, there is one significant nuance – the player will be asked in the process of completing tasks to help a variety of ancient civilizations. But to achieve the result, you have to go through a huge number of levels. The game involved a lot of all kinds of resources that need to be collected. They also include magical amulets and interesting artifacts. If you successfully complete the tasks, then success is guaranteed, and the player will be able to save many civilizations from destruction.
For the long-awaited assistance to local residents it is necessary to carry out the proposed tasks from the inhabitants of the settlements. If we draw an analogy, the game Cradle of Empires in a sense even slightly resembles the world famous Clash of Clans, where the main task is to build a base. In this game you need to do something like that.
Some features of the game that users will surely like include the following:
Spectacular and well thought-out graphics, which is combined with excellent special effects;
Interesting gameplay, which compares favorably with other similar games;
The user is prompted to complete a large number of levels with varying degrees of difficulty.
After a successful download and the start of the game, it is possible to use four types of currency: gold, bricks, provisions and diamonds, which must be purchased for real money. And any real game loves money in itself, since there is a lot of donation. It is important to note that the game has really beautiful graphics, noticeably different for the better from other games.
Special effects also amaze with their quality. There are also collections that will have to be collected from several components at once, and then give to friends or receive a variety of valuable rewards.