Ganre:

Simulations

Version:

1.8.2

Developer:

PIKPOK

Requirements:

Android 4.1

+

Publish Date:

11.08.2019

Rated for:

10+ years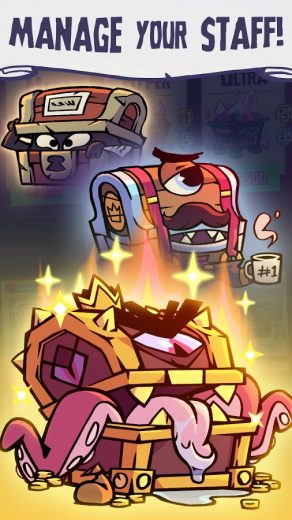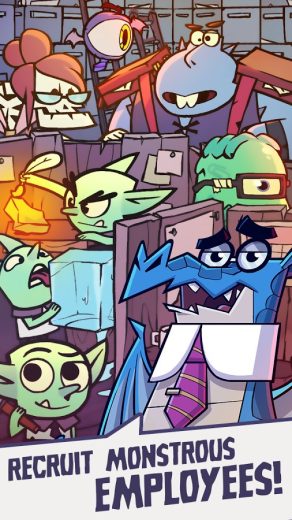 The description of Dungeon, Inc.
Dungeon, Inc.  – This is a worthy of attention simulator, in which you will try on the role of a successful manager engaged in the search for gold ore.  For mining you will be entrusted with its own mine, in which all sorts of creatures, ranging from huge orcs to dark wizards and ghouls, will work tirelessly. Find and use new heroes, increase the supply of gold, go deep into the ground, collect a dangerous army that will guard your estates, and will not allow cunning competitors to take away the useful ore. You yourself can try to win back resources from your neighbors, taking their gold and people.
When the mine price increases to serious by game standards, you can start the bankruptcy process to make an even bigger fortune and buy a new mine for enrichment. Simulator Dungeon, Inc. from the studio, which is called PIKPOK, has a colorful picture and surprisingly very interesting gameplay. A lot of unique personalities, violent confrontation, battles for resources and competent economic calculation. Take back gold and other items from nearby users and raise the value of your settlement. The more your possession is valued, the more protection you will need for it, since it will be the main job of other players to profit from your property.
Reach the peak of your career, auction your point at a bargain price, make a profit, and start all over again. All the free time from work and raids, the main characters will spend in the nearest bar, constantly playing the lottery, as well as communicate with other adventurers in the person of users, using a separate chat, controlling the talents of monsters, as well as exploring locations and dungeons in search of easy  profit.
Collect rare monsters around you, they will play the role of defenders of your gold deposits from regular visits of tax officials and other managers in the players, and after you stand against the attack, send the soldiers to rob and destroy their neighbors! When the value of your deposits in the market rises to incredible heights, arrange an unexpected collapse in order to withdraw money as soon as possible and begin a new search for minerals. Show in practice which one of you will be a manager.
Key features of Dungeon, Inc .:
Unlock and pump strong artifacts to recycle the game in your own way;
Find all the monsters that are ready to defend your dungeon, starting with the orcs and sorcerers, and ending with slugs and ancient wizards;
Constantly expand your mines, adding new rooms to intricate corridors, and items to increase the flow of money;
Fight with the rest of the players for the title of the best financier, arranging ruinous raids on foreign territory;
Variety of game classes, which will be available at the very beginning.