Ganre:

Race

Version:

4.3

Developer:

Spil Games

Requirements:

Android 3.0

+

Publish Date:

16.08.2019

Rated for:

10+ years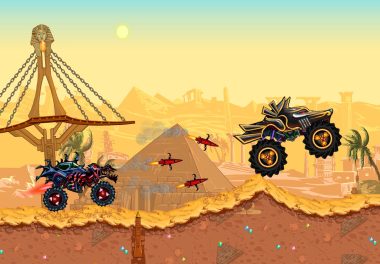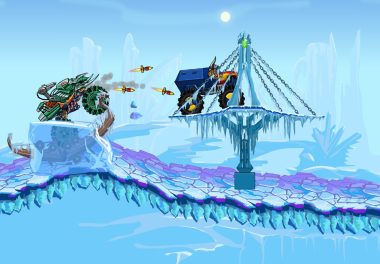 The description of Mad Truck Challenge Racing
Mad Truck Challenge – Racing – This is the real race without rules, in which you can do whatever you want! Will you be able to reach the finish line or will you turn half way? Truly difficult rounds on huge monster cars will be prepared for you. Each driver will try to do everything to get to the finish line first. All your opponents will be hostile and tough to your person. On the road past you will pass the same psychos, like you, so do not be distracted by trifles.
The main mission of the game Mad Truck Challenge racing on Android, is to survive and resist against the hard pressure of your opponents. On the way to the finish line, the most powerful weapons and unforeseen maneuvers will be used against you. Trim other riders, shoot at them from the existing artillery, turning their vehicles into a bunch of unnecessary scrap. The player will race at high speed on the slopes and descents, so there will be presented a lot of chances to show everything that you can do with the machine.
If you still can not get ahead of another rider in an honest way, then you can always launch a volley of rockets into it. You only need to reach the finish line.  For regular performance of complex pirouettes and defeating competitors, you can earn money that is spent to improve the performance and combat strength of your truck. At first, the Mad Truck Challenge user will be installed the cheapest, but extremely effective salvo fire system, which will cause significant damage to the enemy, even with an inaccurate shot, allowing you to overtake him and reach the finish line first. By the way, for winning in the next race, you will receive not only the coins required to finalize the car, but also points. The negative side can be attributed not quite detailed image, but in this genre it is not required.
The control is made on the basis of a pair of keys on the left and right side of the screen, responsible for the rotation of the vehicle along the axis. Gas is not needed here, as the car moves in automatic mode, and in the right side of the display there is a button to activate the rocket launch and turn on the turbo mode. Moreover, the two mentioned characteristics will be installed throughout the entire course of your arrival and must be selected in order to be able to use it when necessary.
The main features of the game Mad Truck Challenge – Racing:
Elaboration of physics at the highest level;
Extensive selection of cars and additions to them;
Nice graphics in animated performance;
A wide variety of tracks to choose from.