Ganre:

Action

Version:

1.91

Developer:

erow.dev

Requirements:

Android 4.0

+

Publish Date:

25.06.2019

Rated for:

10+ years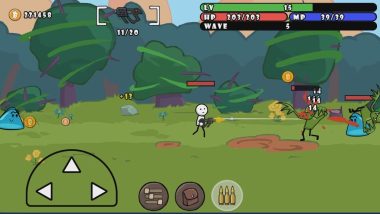 The description of One Gun: Stickman
Get ready to fight, against all forest enemies and animals, with the help of the game One Gun: Stickman. This game is just meant to shoot at enemies and complete missions, along with a cute cat that will chase the character in the game. He will not help with anything, he will simply follow his master. The main goal in the game is connected with clearing the forest of evil animals, as well as passing the entire map with locations to the end.
Goals of One Gun: Stickman
In the game, the main character is Stickman, with his little four-legged friend. As the game progresses, many opportunities open up, among which the player can:
Meet the monsters. Heaps of monsters, attack the main characters. Among them are bloodthirsty bears, crazy snowmen, giant sheep and other monsters. They should be shot as quickly as possible so that they do not cause damage to the character. The character, like his rivals, has a life-span, which, depending on the damage caused, will decrease;
Earn balls. For each monster destroyed, it will be possible to get balls, which will bring earnings, in the general game piggy bank. There is one moment. The stronger the monster, the more points. Strong monster can be found in its size. For big monsters, as many points are given in the game;
Use a backpack. There are many valuables hidden in the backpack. Using it, you can change weapons, using it in the fight against monsters. In the backpack, bonuses and useful things are also hidden. Bombs, grants, health improvement. All this can be done with a backpack;
Change clothes. While playing, the player can dress the character in unusual costumes. They are bought for the money that is earned during the game. You can play here, dress your character even in Gladiator. The equipment, gives small protection against the enemies attacking from the different parties.
What else can you do in the game?
Re-run the mission. The player, in the game One Gun: Stickman, has a map on which the levels completed are clearly displayed. They can be repeated, earning extra points there.
Aim. In the game, just aiming to do this, just enough to approach the goal that will need to be eliminated.
How many missions in the game?
Playing One Gun: Stickman, you can not worry about the fact that you have to miss going through the game stages. At this time, there are 60 fascinating levels available in the most unusual locations. Snow-covered forests, hot countries, volcanoes, dungeons. Treacherous trees that attack from different sides, only a small part of what players can find here.