Ganre:

Strategy

Version:

1.25.0

Developer:

Plarium Global Ltd

Requirements:

Android 4.1

+

Publish Date:

12.07.2019

Rated for:

12+ years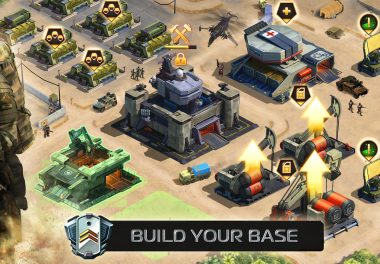 The description of Soldiers Inc: Mobile Warfare
Strategy Soldiers Inc: Mobile Warfare will appeal to all, then loves the game on a military theme. The replacement of regular troops in the appendix are private military companies. Who are not interested in politics, the main thing for these soldiers is participation in hostilities and receiving remuneration. There are events in the game in the future, in 2037, in the territory of the South American Republic of Silvo de Fuego. Scientists in the laboratory create a new psychotropic drug.  which is called panacea.
The owner of this new drug is able to seize the whole world.  But it is no secret that everyone wants to get power. Invented the drug corporation Phoenix, which is located in a remote place, in a well-fortified military base. Commanders of private military companies are sent there to assess possible risks, wanting to get the formula of this drug. In the role of commander of the military company, the player must be the first to take possession of the Panacea formula. This task is a priority for the player. he can use a variety of modern weapons, aircraft, drones, and soldiers when performing a mission.
The player needs to:
Determine the choice of strategy, to complete tasks alone or by uniting with other players;
Based on the strategy, think about the tactics of subsequent actions;
Using drones to explore, explore the territory of the corporation "Phoenix";
By means of airplanes to deliver soldiers and equipment there;
On the territory of the corporation to create a strong point, which also needs to be made its military base;
Attack "Phoenix" under the guise of helicopters and airplanes;
It is also necessary to confront other commanders of private military units. With some of which you can create an alliance, and together attack others;
To know all the subtleties of combat in extreme situations.
To accomplish the task, skillfully confront other units, have a reputation as a strong ally, you must constantly develop your military base, improve equipment and weapons. You need to ensure that at your disposal was the most innovative weapons. Which can get for game currency, participating in tournaments and completing missions. It is also possible to purchase weapons for real money.
Features of the application:
Created animation using motion capture technology;
Graphics are in 3D.