Ganre:

Logical

Version:

1.8.0

Developer:

Spil Games

Requirements:

Android 5.0

+

Publish Date:

07.08.2019

Rated for:

10+ years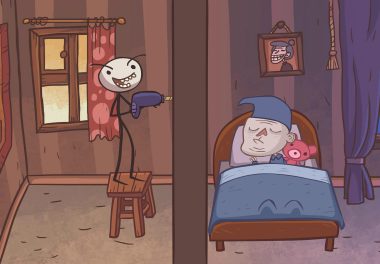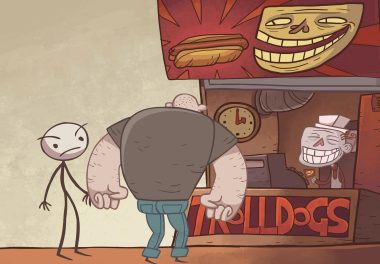 The description of Troll Face Quest: Unlucky
Game developers from Spil Games are familiar to avid gamers by their unconventional creation, which is called the Troll face Quest Sports puzzle. This project is distinguished not only by its appearance, but also by a non-standard approach to the comic component. However, the application had its flaw – a very small number of levels, in connection with which, the application developers released the second series called Troll Face Quest Unlucky (troll interface unlock quest). If you liked the source, or you just want to relax, then pay attention to this project.
The game is without a clear plot, but with funny scenes and sparkling humor. Before us there will be many levels, in each of them, the user is waiting for a special mission, which will need to cope with different methods. For example, on the starting card, you will see a cheerful hero and balls that will explode when pressed, but if a player burst them all, then the round will not count. All that is needed from the gamer is to click on the box from which the hero will fly out and will frighten our ward very much.
The continuation of the game, which has already become a kind of legend, is guessed not only from the name of the series, but also from the external design, as well as the gameplay. A nontrivial approach to graphics, a sea of ​​black humor and unforeseen moments – that's what interested the application at one time almost one million players across the globe. Well, Spil Games did not lose time and meticulously collected entertaining data, and also put forward hypotheses that were involved in this series in the future. The second part is almost indistinguishable from the original: everything is in its position, since the previous series has earned the most flattering comments from respected critics.
However, some improvements were made – now the plot will not twist around sports competitions, but around the most simple everyday situations that we will look at from a different angle. What is the meaning of this story? If for you Troll Face Quest Unlucky was the very first application from this studio, then you should first talk about the essence of the gameplay. Each round represents a situation in which one or more heroes will take part. The gamer's goal is to interact with objects or characters to find out who the prankster is and who his victim is. In the case of a correctly chosen combination, the round will be considered as passed, and you will be able to see the presented scene. As in the last series, the project developers give five free tips. The game Troll Face Quest Unlucky sometimes comes across difficult situations when it is not entirely clear what to interact with and how to get a winner. However, when all five free tips end, you will have to fork out, as the assistant will not be reset over time.