Ganre:

Strategy

Version:

1.0.41

Developer:

Neoskizzle

Requirements:

Android 4.0.4

+

Publish Date:

12.06.2019

Rated for:

8+ years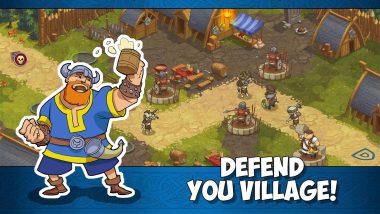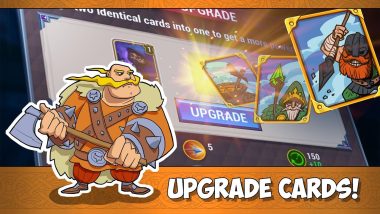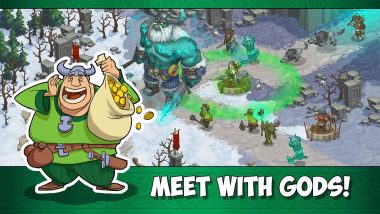 The description of Vikings: The Saga
The heroes of Vikings: The Saga are Scandinavian warriors who have to defend their settlement from constant enemy attacks. Villagers are forced to fight trolls and zombies, huge spiders and other bloodthirsty creatures. The gamer's task is quite simple – he should, along with the Vikings, destroy all evil. The success of the settlement depends on how successful the chosen strategy is.
Description
The start of the game will be the 980th year. It was at this time that the peaceful life of the northern settlement was violated by the raids of the wild hordes. The dark magician, whose power is constantly increasing, commands the creatures. Without your help to keep the defense is becoming increasingly difficult. To cope with the onslaught of zombies and ferocious trolls around the village will have to build several towers.
Magic will also help the defenders of the village in their destruction. Consider that if at least one of the army of the dead penetrates beyond the walls of the village, it will not be possible to save its inhabitants from total annihilation. Choose the right tactic to keep the tower unattainable for the enemy.
Game process
You will have to explore the area to properly place their warriors. No creature moving in the direction of the village should not go unnoticed by the Vikings. If there are not enough towers to protect the village, then you can ask for support from mythical heroes endowed with incredible power. For successful passage Vikings: The Saga will have to complete many tasks. Gamers will come in handy and collectible cards with which warriors can be improved. While enjoying the colorful locations, you should look closely at the well-hidden bonuses and all sorts of privileges.
At the end of each journey you will have to measure strength and with powerful bosses.  These creatures are the most dangerous, so without dexterity and ingenuity to defeat them will not work. The developers have also provided separate modes, where the characters will just have to survive. If the ranks of the defenders thin out, replenish them with new fearless warriors. Thanks to the unique engine and cool gameplay project Vikings: The Saga looks great on any gadget. At the same time, the graphics used in the game resemble popular comics.
Among the advantages of the saga are:
Elegant hand-drawn picture;
Many diverse enemies;
Ease of use (with just one finger);
Excellent selection of maps;
The presence of a leaderboard.
Battles with evil spirits require incredible tension. Use the available opportunities to the full to prevent it from breaking into the village.