Ganre:

Adventure Games

Version:

0.50.1

Developer:

InnoGames GmbH

Requirements:

Android 4.1

+

Publish Date:

13.10.2018

Rated for:

7+ years
Update info version 0.50.1
Bug fixes and game performance improvements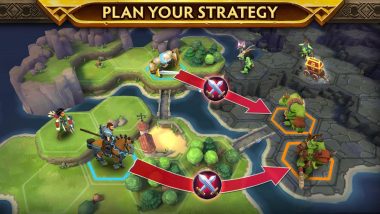 The description of Warlords of Aternum
Warlords of Aternum (hacked) on android – an epic confrontation in the genre of turn-based strategy, where a tactical approach may become more important than the number of your army. You have to clash in a bloody confrontation with the orcs, who seized most of the land. Game mechanics are quite similar to the gameplay of Heroes of Might and Magic, but there will be original solutions. If you are a fan of large-scale battles, love not only to swing the sword, but also to think with your head – this mobile strategy will be the best discovery for you.
Your adventure begins with an ancient town called Dewport, which has long been ruled by green monsters. Only merchants live here, respectively, no one has been trained in military affairs, and they physically could not repel the orcs. As already mentioned, the fights are implemented in a step-by-step style, that is: having placed your units on the field, you must move in the direction of your opponent and alternately strike. The army that has the warriors is winning, in fact, for this you need to develop your strategy, because not always the number of your troops will be greater.
All recruits belong to certain fighting classes and have the skills to possess a certain type of weapon. Take the service of archers, spear throwers, guards, and even witches. They should be arranged in such a way as to compensate for the weaknesses of each type of warriors, because all of them have flaws that the enemy will definitely notice and take advantage of at the most inappropriate moment for you. Do not forget about the system of pumping, which will greatly simplify the process of the fight.
For each victorious battle, a gamer receives a certain amount of gold coins on the game balance, as well as auxiliary items, through which you can improve the combat power of a certain squad. Collecting sets of various items, you can get additional bonuses and pump one of the links of your army. Save the fantasy world from the yoke of orcs and other monsters that do not give life to ordinary people, and become a legendary commander.
We have a hacked version of the Warlords of Aternum strategy for Android, which has a number of differences from the original, as well as simplified gameplay. On this page you can download a mod for great damage for free and win even the strongest opponents in battle. Learn from other armies, create unique tactics and drive out green monsters from your land.