Ganre:

Simulations

Version:

2.7.17

Developer:

ChillyRoom

Requirements:

Android 4.1

+

Update Date:

26.03.2020

Publication date:

14.05.2019

Rated for:

6+ years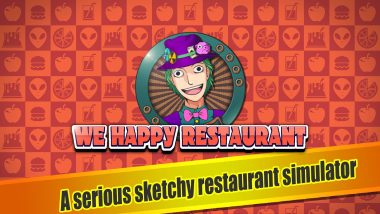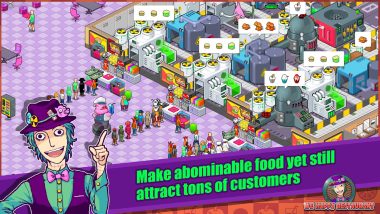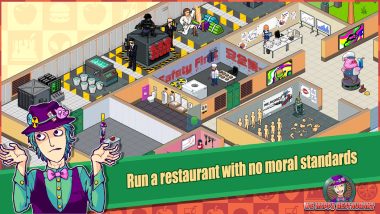 The description of We Happy Restaurant
We Happy Restaurant is a mobile game in an economic and strategic genre. The player in this game will manage a fast food restaurant. The main goal, as in any capitalist society, is to earn as much money as possible. To do this, the player will have to work hard for the restaurant to gain popular popularity and big capital. At the initial stage, when a player is just starting a restaurant business, an extremely small and unpopular catering establishment is in his power. There is only one food distribution line and a small list of possible recipes for selling products.
By selling food, a player earns capital that can be spent on improvements. As for the restaurant, it is the opening of the second food distribution line, the installation of various attractive stands, the installation of attention-drawing devices and the like. For example, it is a soda machine, a TV, a miniature sideboard, a candy machine, inflatable figures and much more. Each of these unique and presented in a single copy of things gives an additional point of popularity to the institution, raises the price of products manufactured at the institution. As for recipes for food production, in the process of accumulating money and popularity a player can choose and buy new recipes for production.
Each new recipe additionally increases the rating of a restaurant, and naturally increases the speed of capital accumulation and, as a consequence, the speed of development of the restaurant's infrastructure. As you know, every kind of business has its own risks and the possibility of bankruptcy. Also in this game, the player may go bankrupt. For example, if a player does not develop the recipe of an institution or there are too many people who want to buy a product in a restaurant, and only one service line, then the player will eventually lose the trust of customers and eventually go bankrupt.
The process must be thoroughly monitored, mindlessly buying things will not work. The game also provides for the purchase of so-called illegal things. For example, in the store you can buy different food additives that will increase the appetite of buyers, make them spend more money. If this becomes known to the local police, the restaurant will lose some of its popularity points. You should use this service with caution, otherwise a restaurant may impose a substantial fine or close it altogether.
Download We Happy Restaurant Mod (Free Shopping)