Ganre:

Adventure Games

Version:

2.0.0

Developer:

Andrzej Chomiak

Requirements:

Android 2.3.3

+

Publish Date:

04.07.2019

Rated for:

7+ years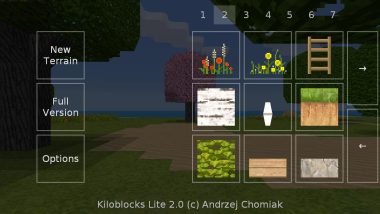 The description of Kiloblocks Lite
For lovers of construction, creating their own cool and unique world, as well as for those who love all kinds of adventure, the developers have created an exciting and entertaining novelty Kiloblocks on Android. Embark on an adventure and create new colorful and vibrant computer worlds. Kiloblocks is a very entertaining and truly creative novelty, the meaning of which revolves around "cubic" mechanics, partly reminiscent of the well-known Minecraft game, but here there are some nice and original features. The world of Kiloblocks is really very positive and open to anyone who decides to step onto its vast expanses once.
Come here, start building the desired object, and remember that nothing threatens you here. The game does not provide for the presence of evil and destructive forces that can prevent you from building the house of your true dreams. All decisions you make in the future will necessarily affect the quality of your life in the world of Kiloblocks. For users, the developers have prepared a very nice bonus in the form of a really beautiful graphics application. In the environment of such games, this one is not inferior to its counterparts, and in some cases even surpasses the quality of its content. Here, for any user, and even a beginner with a small stock of skills and knowledge, access to a simple interface and tool will be open, which will not be difficult to deal with.
Come to the world of Kiloblocks, choose for yourself the most preferable and convenient sizes of block constructions that will have their own specific features and functionality and start enjoying the process of this fun and incendiary game. The atmosphere of the game world is quite harmonious, calm and very balanced, there is no place for threatening moments. Embed your most unique ideas in the construction and become a real creator of your life.
The game Kiloblocks gives all the opportunities for users to begin to build their own steep base installation, as well as a large number of very different mines, palaces and castles. What is closer to you, only you choose! In the game, no one and nothing will make you act in any particular way. All cards are only in your hands, and what you get in this game space depends on your decision and desire.