Ganre:

Adventure Games

Version:

0.12

Developer:

RetroStyle Games UA

Requirements:

Android 4.2

+

Publish Date:

16.06.2019

Rated for:

7+ years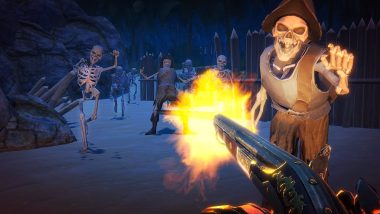 The description of Last Pirate: Survival Island
Last Pirate: Island Survival is an exciting first-person survivor with incredibly realistic and detailed graphics. The main character is a one-armed pirate whose ship has been shipwrecked. All crew members are dead, only the main character has survived. He is brought to the shore of a mysterious island, where he has to settle in, build a house and just survive. During the day, the one-armed pirate searches for food, builds a shelter and explores the surroundings, but at night you should find the most reliable refuge, because at night the island lives a different life.
At night, not only the inhabitants of the island and wild animals are chosen outwards, but also mystical creatures, such as walking corpses and skeletons. Since the main character has no left hand, a metal hook is installed instead of it, in many respects replacing the hand. The hero performs all the main actions with his right hand.
Gameplay Features:
Incredible improvised weapons that can knock down even the largest opponents;
A huge number of types of enemies, ranging from people to mystical creatures;
People once lived on the island and the hero has to find the remnants of their empires;
Cooking, collecting resources, creating weapons – it all looks realistic;
You can hunt animals with both cold weapons and firearms;
You can find a safe haven even in the most unexpected places.
Game features:
High-quality 3D graphics with a first-person view;
A diverse map that includes ships, abandoned cities, villages, forests and dungeons;
Weapons, both long-range and cold, can be found or created using the resources found;
Rare artifacts in the game;
The surrounding world, which behaves unpredictably;
You can get food in many ways (hunting, fishing, picking berries);
Caches with pleasant surprises are scattered throughout the location;
Realistic combat system.
The game can be called a true masterpiece. The gameplay delays, what is happening does not have time to surprise and as soon as the player thinks he is safe, a very unexpected surprise can wait for him ..