Ganre:

Action

Version:

1.8.26

Developer:

GDCompany

Requirements:

Android 4.1

+

Publish Date:

29.06.2019

Rated for:

8+ years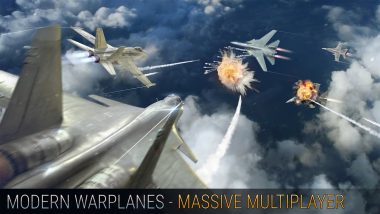 The description of Modern Warplanes
Modern Warplanes: Combat Aces PvP is a modern online game, with one convenient advantage. The user plays not with the same players, but with a large number of players who are in different parts of the world. Shoot the opponents, collect bonuses, feeling like a pilot. To play with the aircraft that are in the presence of various armies of the world.
Features of Modern Warplanes: Combat Aces PvP:
Get acquainted with the fleet of aircraft and pick up for yourself the aircraft from various powerful armies of the world. In the user's assortment, there are 10 real-life aircraft available and 2 versions of upgraded aircraft. The higher the price, the more powerful the aircraft will be in its action. Initially, for the purchase, the first aircraft is given 150 coins;
The choice of weapons. Not only airplanes are bought in the game. Here, users are invited to purchase weapons for the aircraft. Machine guns, grenade launchers, bomb throwing systems, automatic installations and not only that, are invited to be purchased by users. At today's time in the game is available, more than 30 different weapons options;
Locations in the game, specially made in such a way that both the player and rivals notice the location of the aircraft from a far distance. The main locations in which the player will play this: sea coasts, mountainous areas.
What is the management of the game?
Modern Warplanes, has control for all users.  You should pay attention to how it looks like:
The plane on which the player flies, is monitored. Calculate the speed at which the distance is covered;
At what height the player rises, it is also known to the game system. Everything is calculated and shown in the relevant sector;
When a player is in a battle, they use two types of small arms. The first weapons are machine guns, and the second is rocket launchers;
Marks about the approximation. From which side flies to the player, the enemy aircraft will be shown with a special arrow. A distant approximation is indicated by green, and a close approximation by red.