Ganre:

Role-playing games

Version:

1.8.5

Developer:

PIKPOK

Requirements:

Android 4.1

+

Publish Date:

26.07.2019

Rated for:

8+ years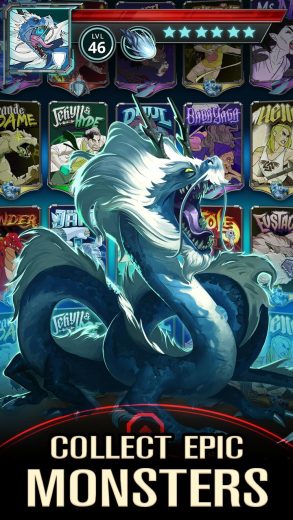 The description of Shadow Wars
Shadow Wars – a logical game in which the main characters will be werewolves, ghouls, dead, and other vermin. Between these monsters for a long time continues the war, which does not affect the human population, but from this war does not become less dangerous. Only a small number of selected heroes can reveal the secret of their presence in our world and society. Among the aforementioned lucky ones it turns out you are. But you do not have to engage in stripping versatile evil spirits that flooded the planet, as is customary in other games of this genre. The player's mission is to enter one of the existing coalitions and protect its interests, as well as to select all its members.
The second stage of development is to become the head of this faction and enter into confrontation with the rest of the monsters, fighting for total control in the world of shadows and evil. For this task you will need to create a powerful and intelligent army of Lycans and the walking dead. At the very beginning, you will have at your disposal one combat unit from which you will receive the rest of the creatures from the opposing factions. Then begins the study of talent and the development of the characteristics of his fighter.
Participate in dangerous battles that will unfold on the dark streets of big cities in various parts of the world. After winning, the player will receive a well-deserved prize, which will be available to purchase new monsters, and the accumulation of rare artifacts. Each hero has the rare abilities with which he is characterized. The stronger the guild, the more difficult it will be to choose an opponent. But from this game only gaining interest.
Skirmishes with enemies in Shadow Wars are decorated in a step by step style.  Fight to be in the format of "three in a row." On the map you need to quickly connect the same items, and then beat the enemy, basing your attacks on strategically correct combinations and the magic used. I would like to highlight surprisingly nice graphics and high-quality background sound. The stunning number of detailed characters. The creators have introduced the option of entering into alliances with other users to defeat a strong rival. There is also a feature for sharing creatures. The game is absolutely free, but rare things can be purchased for real money.
The main features of the game Shadow Wars:
Create strong alliances with the strongest users of the game: combine the possible forces to snatch victory from a formidable opponent.
Build the best team of monsters with different talents from each other and go into battle, having planned each step.
Get rare creatures, valuable items and priceless artifacts with which any enemy does not want to have business with you.
Collect legendary items that will help create a unique style.
Win challenging skirmishes and evolve with your teammates.