Ganre:

Simulations

Version:

1.8.1

Developer:

Broken Reality

Requirements:

Android 4.1

+

Update Date:

26.03.2020

Publication date:

14.05.2019

Rated for:

7+ years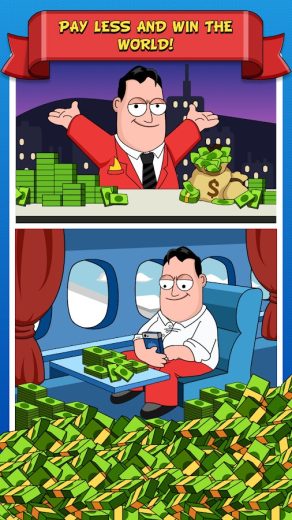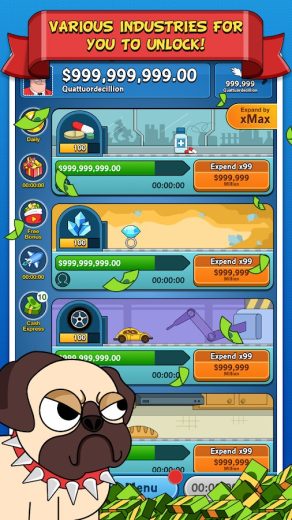 The description of The Big Capitalist 3
The Big Capitalist 3 is a click game. The player is only required to click on the screen of his smartphone on all sorts of buttons. Nothing complicated at first glance, but in fact the game is quite complicated, it can be attributed to the intellectual genre. This game reproduces the capitalist economy. The main goal of the player is not hard to guess, earn as much money as possible. The player must seize 100 percent of the world capital, only then the game can be considered completed and completed in logical terms. Good in the real world this can not happen.
The initial screen saver of the game shows the player his role, namely the beginning capitalist, who intends to take possession of all the money in the world. At the initial stage, the player will have to resell items. For example, a player buys 100 packages of medicine for a small amount, then waits for a suitable price on an improvised exchange and sells them at a higher price. To the proceeds from the sale, a player can purchase more medicines and, as a result, earn more or purchase a more profitable other product.
As capital accumulates, a player can not only trade, but also buy production. For example, a player may buy a pharmaceutical plant or an oil well. After hiring workers who will subsequently produce goods that can also be sold on the stock exchange. As companies grow, their value will increase when a company reaches its highest peak and power, a player can part with it and sell. The last stage and the highest degree of the capitalist world and the player's capabilities are the creation of scientific and technical centers that can create new technologies, new ways of production.
Since the player owns them, he can invest in new types of production. In this case, he will be a complete monopolist and in the future to earn the most big money. But not everything in the game goes in a linear fashion. A player may go bankrupt and lose as a result. This may be due to the fact that the purchased product was unclaimed and has to be sold cheaper, this may occur due to an unproven production technology that does not provide a sufficiently large amount of products for cash balance, as well as other things. In general, in order to become the owner of all the money on Earth will have to try and strain all the convolutions, without this in any way.
Download The Big Capitalist 3 Mod (Money)