App Development Outsourcing Guide [2021 update]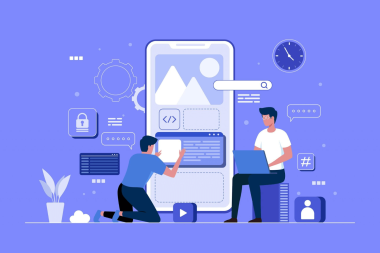 It seems that nowadays humanity has an app for every task you can imagine. The 2.5 million apps on Google Play and almost 2 million in the App Store help us understand why there is a massive shortage of software developers.
In this article, we will give you a short guide for outsourcing app development in 2021. Additionally, we will explain how to minimize the risks when outsourcing app development to companies overseas.
3 Steps Before Looking for Developers
Every single development process starts from three steps.
Step 1: Prepare the project description and deadline. It is essential to understand which problem you want to solve with your new application. You need to have a clear image of the target audience and which features to incorporate to make your application successful. Take some time to make the decision. This choice will make the difference between profit and loss.
Step 2: Communicate with the outsource development company. This can be challenging and time-consuming, but we recommend spending extra time researching the market before you make the decision. It would be a great idea to check out the portfolio and read honest reviews on the internet. After that, we recommend conducting a real-life interview. A meeting in Google Meet, Skype, or Discord can help you if you can't meet in real life.
Step 3: Ensure some guarantees and legal repercussions. It is essential to have paperwork about your partnership. Create and sign a legal contract with the development team. The main point of this document is to ensure that you will get the product following your prior deal.
Benefits of Outsourcing Mobile App Development
Every single thing has its benefits and risks. Here is a shortlist of benefits of outsourcing:
Reduced Costs
Reduced costs are the number one reason to consider outsourcing. The cost of living in developed countries like France, Germany, or the United States is significantly higher than in developing countries like Ukraine, Belarus, or India. This advantage helps companies get top-notch service for a fraction of the cost they would spend on developing an app in the United States.
You can get the services of a senior developer from Ukraine for the money that will only afford you to hire a junior programmer in the US. Such a gap in pay grades will help you save a considerable amount of money.
Hiring a Professional Team Will Save Your Time
Time is the only resource that we can't get more of. So, it is a great idea to save as much of your precious time as possible. Outsourcing the app development allows you to skip the time-consuming process of forming and managing a team. You need to find the company that will fit the job, discuss the details, and pay for the result.
High-End Service for a Small Price
Thanks to the internet, you can check out the reviews and portfolio of the outsourcing company before even considering it as a potential candidate. Platforms such as Clutch.co allow you to see honest reviews from real clients. Adopting these techniques will help you find the team that will suit your requirements.
Risks to Consider When Outsourcing Mobile App Development
Outsourcing mobile app development can be tricky. This section tells you several things you need to avoid while outsourcing your product to a company from another part of the world.
Miscommunication
It is common for clients from the United States to outsource the development to Eastern European countries or India. The vast distance between the client and the development team can cause miscommunication during the development process. Thus, we recommend using apps like Skype, Slack, or Zoom to control the process of development. Ask the dev company to send you weekly updates about the development process. Having this information will help you to avoid expensive mistakes.
The developers should be able to contact you whenever they need to consult you. Yes, we know that you have many things on your daily to-do list. But it is better to answer several questions from developers in the process instead of getting an unsuitable product in the end. We encourage you to find the time to help the outsourcing company understand your vision better.
Time Zone Differences
Above, we talked about the distance between you and the outsourcing company. Software development is a rather tedious task, but there is a chance of emergencies.
An emergency can escalate and cause substantial financial losses to you. Thus, it is essential to hire people from a close time zone. Besides, working with developers in a close time zone will help you get real-time updates on the developing process.
So, we encourage you to nearshore your development. Outsource your product to Eastern Europe if you are in Western Europe or the United Kingdom or to Latin America if you are in the United States.
Confidential Information Leaks
This is a terrible tendency, but we can't ignore this problem in the outsourcing industry. It can be a bad idea to provide an outsourcing company with sensitive information. It is possible that, after concluding the deal with you, the company will use the acquired data for commercial use. Think twice before outsourcing an application that includes highly confidential information
Still, you can sign a contract with the developing company, obliging it to take legal responsibilities to minimize the risk of leaks.
Conclusion
There are millions of different apps for iOS and Android, and this amount will rise in the future. There are 4.66 billion internet users worldwide. The rate of economic and technical development of African and Latin American countries allows us to estimate that the number of internet users will rise in the future. Hence, these people will need more apps to solve their problems.
We hope this article helped you get a better idea of outsourcing app development, the things to consider and risks to avoid.