Ganre:

Action

Version:

3.0.2

Developer:

Ubisoft Entertainment

Requirements:

Android 4.2

+

Publish Date:

25.08.2019

Rated for:

12+ years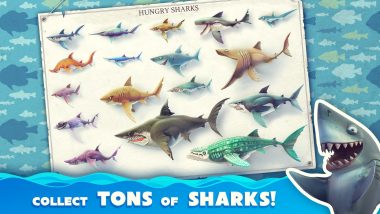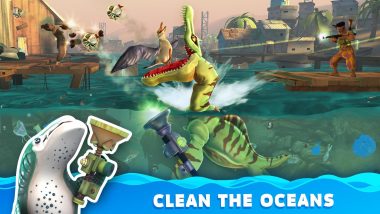 The description of Hungry Shark World
A fascinating action game Hungry Shark World – a quality product from the producer of good content Ubisoft Entertainment has long had hordes of its fans around the world. The next updated version of the game starring with a predatory killer shark is available for free download on the site just now and play an unlimited amount of time. This interesting, bright, dynamic application with a pleasant music will allow you to pass the time and improve, develop attention and reaction.
This is a game in Russian, where the user must pump forever hungry carnivorous sharks and buy new ones. Predators eagerly eat fish, crabs, stingrays and people swimming peacefully in the water or those who just sunbathe on the beach off the coast. The shark is a predator that lives at depth, and in the game all actions of the user controlling the fish occur in the expanses of the ocean.
Features Hungry Shark World
Everyone who likes to play games must have played this application or know about it. Around the world there are thousands of people who have passed the whole game from beginning to end more than once. This is a great way to lose steam and stress – by eating a couple of hundred fish, people or crabs with the help of a sea predator on the screen of your smartphone. The game world keeps a lot of secrets, secret passages and secluded corners that are not marked even on the map.
Having sailed into their territory, the user can find interesting bonuses, items for collections and experience points. First, the user is provided with one of the simplest sharks, which will not eat the fish more than himself, it can be stung by a jellyfish, scratch a crab or any other predatory inhabitant of the sea depths, but over time the user will buy himself a shark larger and get revenge. So everyone can be the largest and most terrible beast with fins, which will be afraid of all the inhabitants of the ocean.
In the game, you can purchase additional accessories and wear a shark to increase experience points – rating, gold coins or even crystals. For all older sharks there is an opportunity to buy one or two sharks – little helpers. By opening all the standard types of sharks for the player, bonus predators will open that can fly, shoot bombs and absorb whole ships, barges and cages with fish.
Control
It is very simple to control the actions of a shark and direct it – for this it is necessary to press the screen once or twice. You should always pay attention to the indicator of life and energy. The first shark will be slow and weak, but it can also be pumped through by improving bite abilities, speeds and other parameters.