Ganre:

Action

Version:

3.0.0

Developer:

Glu

Requirements:

Android 3.0

+

Publish Date:

21.07.2019

Rated for:

12+ years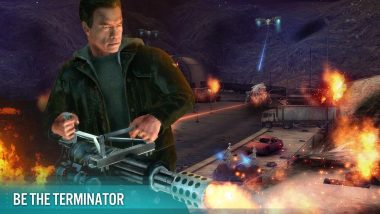 The description of TERMINATOR GENISYS: GUARDIAN
In the proposed game TERMINATOR GENISYS: GUARDIAN you will have the opportunity to visit the body of the real hero John Connor. Together with him you will be able to save all of humanity, on which total destruction is coming. This is not so much a three-dimensional shooter where you can navigate on your own. But there is a shooting range with different shelters, with a rather impressive arsenal of weapons that can be changed at any time. Playing for the hero John Connor, the main task is to destroy all the robots arriving on earth, who were ordered to destroy all people.
We try to survive on every level, to win battles, to go towards the goal of the peaceful existence of inhabitants on earth. John Connor remarkably owns a large number of different types of weapons, fighting off robots. To go to the next task, you have to start pumping the existing weapon, namely, to improve its certain indicators: reloading, store volume, firing speed, power from shots. Tasks in front of the character will be completely different, but in general, strong differences in the style of passage, the mechanics will not be observed.
Tasks will be different: according to the type of engineer rescue, on which the lives of many people depend or to destroy a certain group of armies of robots. In the course of battles, the player will be able to switch the type of weapon at his discretion, because his weapon is suitable for defeating a specific enemy. In the arsenal, the hero has both a modern sniper rifle and a shotgun.  Sometimes it will be possible to use the rocket launcher, with the help of it the hero will have the opportunity to break the enemy into many pieces.
There will be several types of enemies in the game. And the user will have to be smart, and adapt to different circumstances in order to defeat a particular enemy. As for the control, it is made according to the standard: the left side of the screen works for aiming, the right side is used for shooting. The graphics are made with high quality, for such a small application, quite at a high level. The minus of this game, like many others, is donat, not critical but for some annoying.