Ganre:

Adventure

Version:

1.11

Developer:

Klei Entertainment Inc.

Requirements:

Android 5.0

+

Publish Date:

06.10.2019

Rated for:

7+ years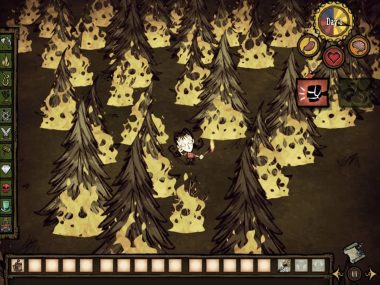 The description of Don't Starve: Pocket Edition
The crazy game that you've heard of is on Android. Its genre is difficult to define: it's a sandbox (collect, create, strengthen) and a "bagel" (just one life, try to last at least a couple of days). All this, along with the amazing Tim Burton-like drawing, made Don't Starve: Pocket Edition a favorite among a huge number of gamers.
The line of storytelling is simple, but interesting. It's about a charismatic scientist with quirks, whose name Wilson (although other equally curious characters will be revealed in due course). It all begins with the fact that the protagonist is in an unknown world, where he has nothing left to do, how to try to survive among the bizarre creatures and unusual flora.
Gameplay is about constant survival. To last longer, you need to collect resources, kraft all sorts of devices (sometimes very strange) and watch out for monsters. It would seem that nothing unusual for the symbiosis of the sandbox and "bagel", but the atmosphere of the game, its graphics and sound accompaniment do their job – the gameplay simply does not let go.
The new world is full of dangers. The hero can die of hunger or a poisonous animal, poisoned by spoiled products (which can then be stored in a homemade refrigerator), go mad or die in the dark, swarming with invisible monsters. Similar surprises at Don't Starve Pond. To understand everything – you will have to test the new universe by trial and error, otherwise there is no way (of course, you can find guides from other players, but it is not so interesting).
Despite the fact that the character has only one life, with his death nothing ends in the global sense. The death of the hero converts his experience into all sorts of bonuses. So you will discover new characters, each of which will have some unique properties.
As you might have guessed, the essence of the game is in constant Kraft and survival. As such, the story line has no end, although the developers periodically and hint at a certain background of everything that happened. And every game day is not a copy of the previous day – Don't Starve has a change of seasons, which takes place over a long period of time. The culmination of each cycle is winter. It's harder to play in winter, as the food is much smaller and the temperature is much colder.
What is the exodus? Don't Starve is awesome in every sense. There are also some drawbacks (the game obviously lacks a Russifier, and in some places it hangs a bit), but it doesn't spoil the first impression at all.